Zucchini and rice cheesy slice
Can be enjoyed hot or cold. Make extra for tomorrow's lunch!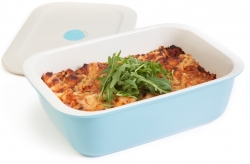 Ingredients
3/4 cup basmati rice (uncooked)
3 cups water
1 tablespoon (metric) garlic infused olive oil
2 zucchinis (grated, excess water removed)
1 brown onion (grated)
200g cooked ham (reduced salt, shredded)
1/2 cup tasty cheese (reduced fat, grated)
1 cup feta cheese (reduced fat, grated)
2 tablespoons (metric) dried, mixed herbs
2 spring onions (finely sliced)
1 teaspoon (metric) cracked pepper
5 eggs (whisked)
400g can corn kernals (drained and rinsed)
4 cups mixed salad (to serve)
Crusty bread (to serve)
Instructions
Preheat oven to 180 degrees Celsius.
Place rice and water in the Decor Microsafe® Rice Cooker & Vegetable Steamer and cook in the microwave without the lid for about 15 minutes, or until the rice is cooked. Once cooked place the lid on top of the Rice Cooker, with the lid vent open, and leave to sit for 5 minutes.
Once rice has cooled, combine all the remaining ingredients in the Rice Cooker and mix well to combine.
Pour into a Decor 3L Thermostone® dish and bake uncovered in the oven for 1 hour, or until cooked through and golden brown on top.
Slice and serve hot with salad and crusty bread on the side.
Notes
Make extra to enjoy cold in school lunches the next day!
To store leftovers in fridge or freezer, apply the Thermostone® lid for a leak-proof and airtight seal.
To reheat leftovers later in the microwave pop open the lid steam release vent button and microwave reheat.
Each serve of this recipe provides:
4 serves of vegetables
1.25 serves of milk/yoghurt/cheese
1 serve of lean meat/alternative
2 serves of grain foods
Recipe created by Nutrition Australia Vic Division for Decor Australia.