Raspberry and yoghurt bircher muesli
Brighten your morning with a delicious breakfast made with raspberries, apple and pistachios. A fresh and easy meal for the whole family.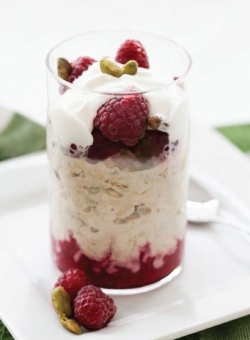 Ingredients
1 + 1/2 cup rolled oats
250ml milk (reduced fat)
1 apple (grated)
2 tablespoons (metric) pepitas (pumpkin seeds)
1/4 cup orange juice (freshly squeezed)
1/2 teaspoon orange rind (grated)
200g raspberries (fresh or frozen)
200g natural yoghurt
2 tablespoons pistachios (chopped)
Instructions
Combine oats, milk, pepitas, apple and orange juice in a bowl. Cover and refrigerate overnight.
Stir orange rind through muesli, divide between serving bowls and top with fresh raspberries, a dollop of natural yoghurt and pistachios.
Notes
Pumpkin seeds are a concentrated source of minerals, vitamins and anti-oxidants such as phosphorus, magnesium, zinc, iron and copper. These help to build the body's immune system as well as maintaining prostate health and the protection of men's bones. They also have anti-inflammatory benefits in arthritis and are shown to reduce cholesterol.
Nutritional information (per serve)
Each serve of this recipes provides:
0.75 serves of grains
0.5 serves of fruit
0.5 serves of milk, yoghurt, cheese or alternatives
Energy: 1324kJ
Protein: 13g
Total fat: 10g
Saturated fat: 2g
Carbohydrate: 40g
Total sugars: 16g
Fibre: 7g
Sodium: 79mg
Calcium: 253mg
Iron: 3mg
Recipe reproduced with permission from Dairy Australia. For more great recipes visit: https://www.dairy.com.au/recipes.