A hearty and flavoursome soup that's sure to fill you up!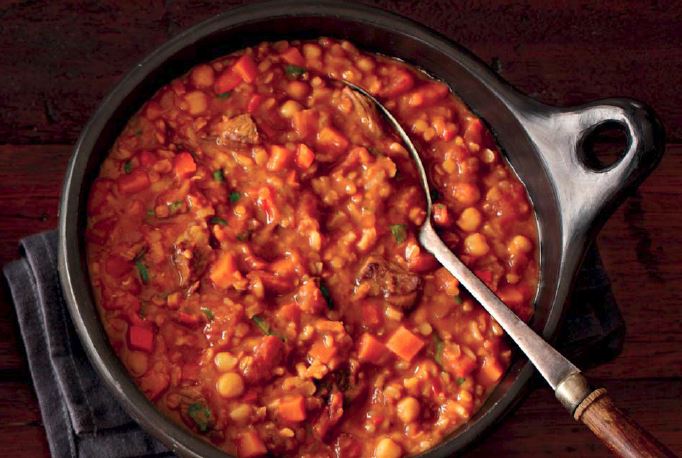 Summary
Yield: 6 serves
Prep time: 2 hours
Recipe source: Grains & Legumes Nutrition Council
Ingredients
2 tbsp olive oil
400g lean beef or lamb, cubed
1 large onion, finely diced
3/4 cup dried chickpeas
2 litres salt reduced chicken stock or water
3/4 cup dried red lentils
1/4 cup long grain rice
1 red capsicum, deseeded & finely diced
2 carrots, finely diced
2 tbsp tomato paste
1 tbsp ground cinnamon
1 bunch coriander, chopped
black pepper to taste
2 400g cans salt reduced crushed tomatoes
Instructions
Heat oil and add meat. Cook until lightly browned. Add onion and cook until softened
Add the chick peas and stock or water and bring to the boil, then simmer for 1 – 1 ½ hours, until the chickpeas are tender
Add the remaining ingredients, except the coriander. Simmer, stirring often, for 30 minutes or until all ingredients are tender
To serve, stir in chopped coriander and season to taste.
Handy hints
Reduce the stock by half to produce a thick consistency and serve as a tasty filling in wraps for lunch!
Nutrition information
Energy: 1490kJ
Protein: 25.8g
Total fat: 12.8g
Saturated fat: 2.8g
Carbohydrate: 30.1g
Fibre: 9.3g
Sodium: 330mg