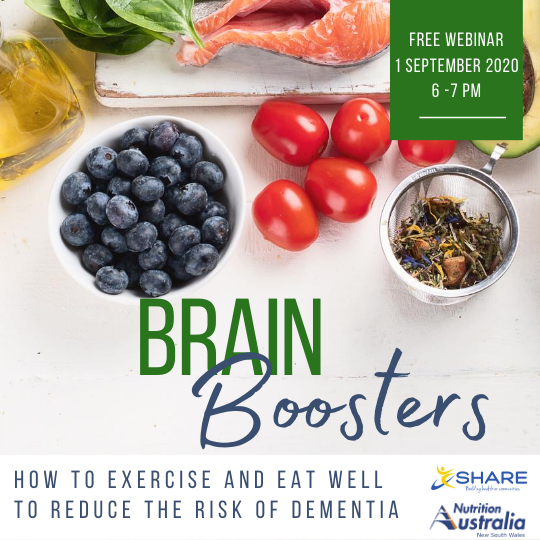 Interested in finding out how to support healthy brain function and overall wellbeing?
To mark World Alzheimer's Awareness Month, Nutrition Australia NSW and SHARE have partnered to present an interactive and practical webinar on reducing the risk of dementia and Alzhiemer's Disease.
Join us on September 1st @ 6:00pm and learn how to move, eat, and live smart for the optimal healthy lifestyle.
With a multidisciplinary panel of health professionals specialising in aged care and dementia, including a Qualified Fitness Instructor and leading researcher, this 1-hour webinar will cover:
What does the research say about dementia risk?
Brain boosting exercise session
Food for a healthier brain and body
Setting healthy lifestyle habits
And more!
September 1st marks the month of inspiring greater understanding about Alzhiemer's and dementia. Alzheimer's disease is the most common form of dementia, affecting up to 70% of all people with dementia. With almost half a million Australians living with dementia and numbers rising every day, it's never been more important to raise awareness of the ways exercise, nutrition and other lifestyle factors can help improve brain health and overall wellbeing.
Tune in and discover practical ways to look after your brain and your overall wellbeing!