Healthy eating combined with regular exercise provides the body and brain with the fundamental building blocks for wellbeing and student performance
Why does health and wellbeing need to be a priority?
Balancing study, exams, classes, work, social commitments, changing sleep patterns and general life demands as a university student often means that taking care of one's wellbeing gets put to the side. But the consequences of this can take a huge toll to one's mental and physical health, now and in the years to come. Recent research shows that 70% of Australian university students rate their psychological distress as high or very high over the last 12 months. With mental health being a major factor in chronic disease risk later in life, this makes looking after the self even more important for university students.
Here is where eating well comes in. Healthy eating combined with regular exercise provides the body and brain with the fundamental building blocks it needs for concentration, memory and academic performance, as well as overall wellbeing, mental fitness and resilience, and reducing the risk of illness. It's a no brainer that in order to sustain healthy eating habits, students need affordable, easy to make meals and snacks to help them achieve their goals successfully and at the same time provide essential nutrients to their bodies. Armed with the right nutrition knowledge, students can become the master of their own wellbeing.
The key? Making the switch from nutrient-poor convenience food options typically high in sugar, salt and fat (think: fast food, chips, soft drinks, quick cup noodles, energy drinks, etc) to healthier options richer in fruits, vegetables and wholegrains (think: veggie wholemeal wraps, sushi, carrot and hummus) – which happens to be cheaper in the long run.
A dismal 7% of Australians aged 18 and over are consuming the daily recommended intake of vegetables, and 49% of the recommended fruits intake in 2015 according to the Australian Bureau of Statistics A more balanced diet provides the amount of vitamin, minerals, carbohydrates, proteins and healthier fats needed for the body. The Australian Guide to Healthy Eating shows the best-practice when it comes to balancing the food groups for optimal health.
Compared to the general population, students need to consider their specific needs. Students with a busy schedule and who engage in sport regularly often have higher energy requirements. Aim for quality carbohydrates including brown pasta and rice, cereals, wholegrain bread, and potatoes. Protein is also important – beneficial for supporting immunity, increasing satiety and promoting muscular health. Nutritious protein options such as lean meats, yoghurt or non-dairy yoghurt alternatives, lentils, nuts, fish and eggs are great choices. Omega 3 Fatty Acids are another important nutrient to watch for, as these are helpful for cognitive performance. Sources of Omega 3 fatty acids include oily, cold-water fish (such as salmon, mackerel, and herring), tuna, flaxseeds, flax oil and walnuts.
---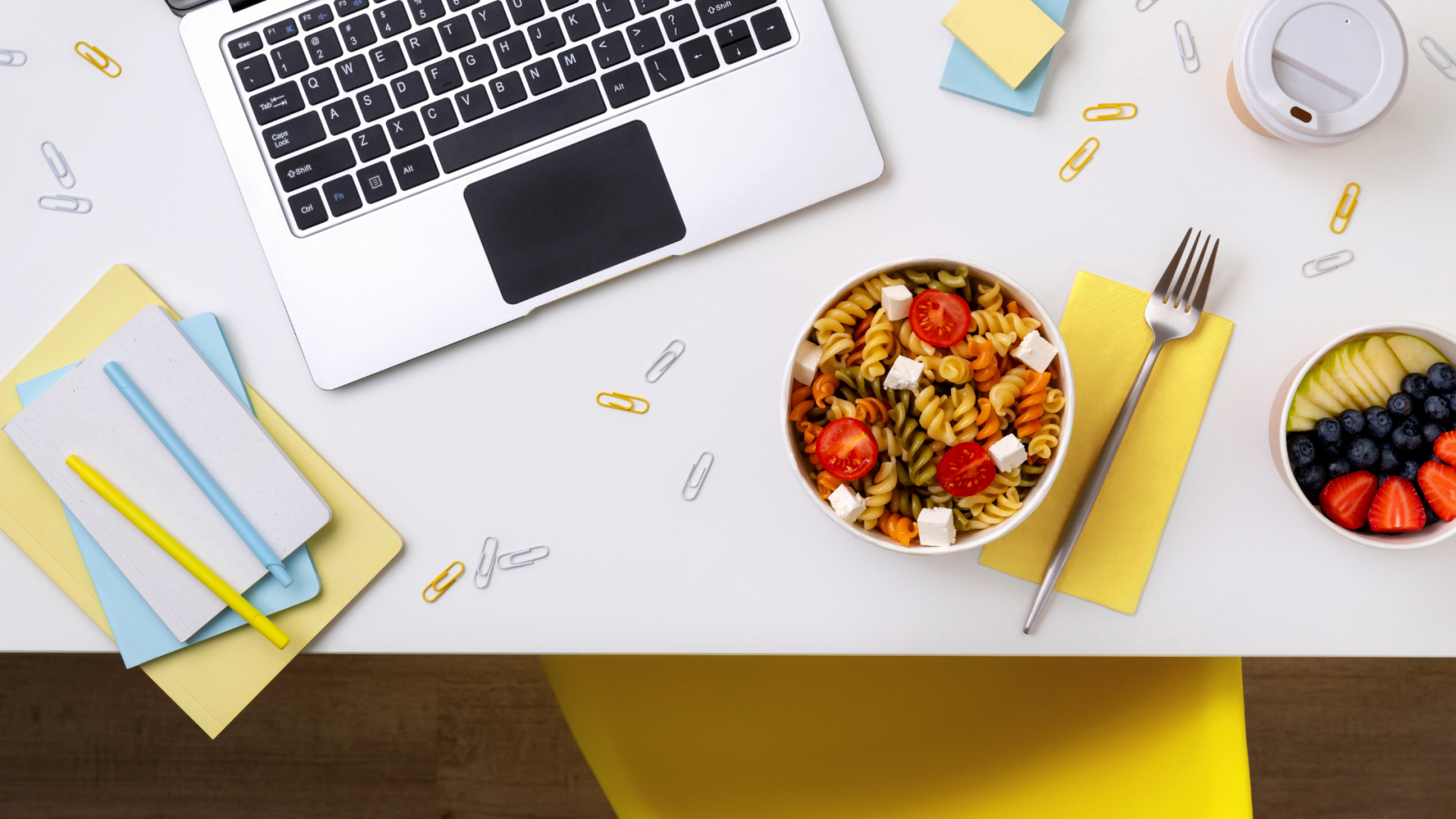 Start the day right with breakfast

Did you know that starting the day with a healthy and satisfying breakfast is associated with better mental health and resilience? Here are three super easy, super satisfying options to kickstart the day:

Students could prepare two slices of wholegrain toast or one slice of wholegrains sourdough with half mashed avocado, two scrambled eggs, and a handful of cherry tomato or one medium-sized tomato with a sprinkle of chia seeds.
Option 2: For a busy morning, students could prepare a leisurely breakfast the day before by soaking oats in Greek-style yoghurt; so, the next morning, the only thing they must do is add frozen or fresh fruits such as a banana or berries, a half avocado, with a teaspoon of honey.
Option 3: In a blender, students could add a handful of berries, a small banana, a half cup of any preferred milk, with a handful of spinach and one tablespoon of ground oats.
Opt for a healthy lunch packed with proteins and carbohydrates

A zoodle spaghetti bolognaise with mincemeat is an excellent choice. To increase the amount of proteins, students are encouraged to add red lentils to the sauce and a wide variety of vegetables such as pumpkin, sweet potato and coloured capsicum.
For vegetarian students, a minestrone made up of mixed grains cooked with any choice of frozen vegetables with a slice of whole grains sourdough; note that to boost the iron absorption, a slam bowl of green salad with a squeeze of lemon is beneficial.
Lunch on the go is not an issue for chicken lovers. Grilled chicken in a wholegrain bun filled with sliced onions, sliced tomato, mashed avocado, and shredded cabbage and a handful of baby spinach or any leafy greens is an easy choice.
Enjoy a quick and nutritious dinner

An easy option is a multigrain tortilla bread filled with a can of tuna or salmon, mashed avocado, shredded carrot, and slices of capsicum sliced of canned beetroot and baby spinach.
A piece of salmon with grilled vegetables like capsicum, eggplants, and sweet potatoes with a bowl of fresh salad with a squeeze of lemon and a drizzle of olive oil.
Make it super simple by using the same pan: cook a steak fillet with grilled asparagus, mushrooms, broccoli( or cauliflower), and zucchini with one baked sweet potato and one fresh avocado.
Snacks should be fun, easy, and enjoyable

If at home and craving a snack, homemade popcorn with shredded dark chocolate is a sweet, salty option.
For a high protein snack packed with vitamins and antioxidants, try hummus dip with sliced coloured capsicum, cucumber, and carrots.
Try some dry figs or prunes or apricot with a handful of raw almonds or walnuts.
Make your own ice cream by blending a frozen banana with one teaspoon of cocoa, half avocado, and once it is mixed into a soft fluffy mixture
Another easy option is peanut butter spread on a multigrain toast or brown rice cakes with sliced banana or strawberry on top and a sprinkle of chia seeds and a few dark chocolate chips.
A snack on the go could be trail mix, a high protein yoghurt tube, one boiled egg with one apple – all excellent ways to boost satiety and satisfaction
---
Check out our latest blogs and events
To kick off Healthy Lunchbox Week 2023, our senior dietitian Leanne Elliston was interviewed by ABC Canberra radio host Emma Bickley. During this interview, hear why some parents may feel intimidated by packing lunchboxes, dealing with lunchbox waste and 5 top tips to help keep lunchboxes real. Click here to listen to the interview.
Public Officer Accredited Practising Dietitian with over 20 years experience in combined clinical, community and private practice. Currently managing the ACT division of Nutrition Australia and Public Officer of Nutrition Australia National
Nutrition Australia NSW is proudly supported by NSW Health.