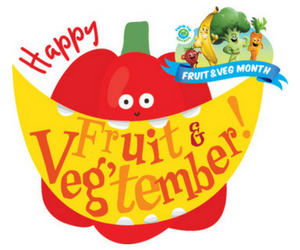 Did you know that only 5% of Australian children eat their recommended intake of vegetables? When children aren't eating fruit and vegetables at school, it's almost impossible for them to reach their recommended intakes. Children need the nutrients from fruit and vegetables to learn, grow and play. Crunch and Sip is a NSW Government initiative, which gives students a dedicated time during the school day to eat fruit and veg and to rehydrate with water. For more information about introducing Crunch and Sip at your school, head to the Crunch and Sip website.
We're also so excited to announce that Fruit and Veg Month is around the corner! Fruit and Veg Month is a FREE NSW Health program for primary schools that puts a positive focus on fruit and vegetables. Fruit and Veg Month 2018 will be held during the last 4 weeks of term 3, from Monday 3 September to Friday 28 September.Fruit and Veg Month provides free classroom, and whole of school, resources that promote kids eating more fruit and vegetables. For more details on the program, go to the Fruit and Veg Month webpage. To fill out the quick and easy online registration form go to this website.
Also, check out our fact sheet for how to include more vegetables in your children's day.