How To Be Food Safe In The Kitchen
Did you know that 5.4 million cases of foodborne illness occur each year in Australia?
While we are lucky to have a reliable, safe and nutritious food supply, this means that around 1 in 5 Australians experience ill health as a result of the consuming food that has been cooked, handled, or stored incorrectly.
Whether you are preparing food for yourself, your family, or in a commercial kitchen, following proper food safety principles is essential for good health. To mark Australian Food Safety Week (14-21 November 2020), let's dive in to what food safety really is and the ways we can ensure we are food safe in the kitchen.
What is food safety?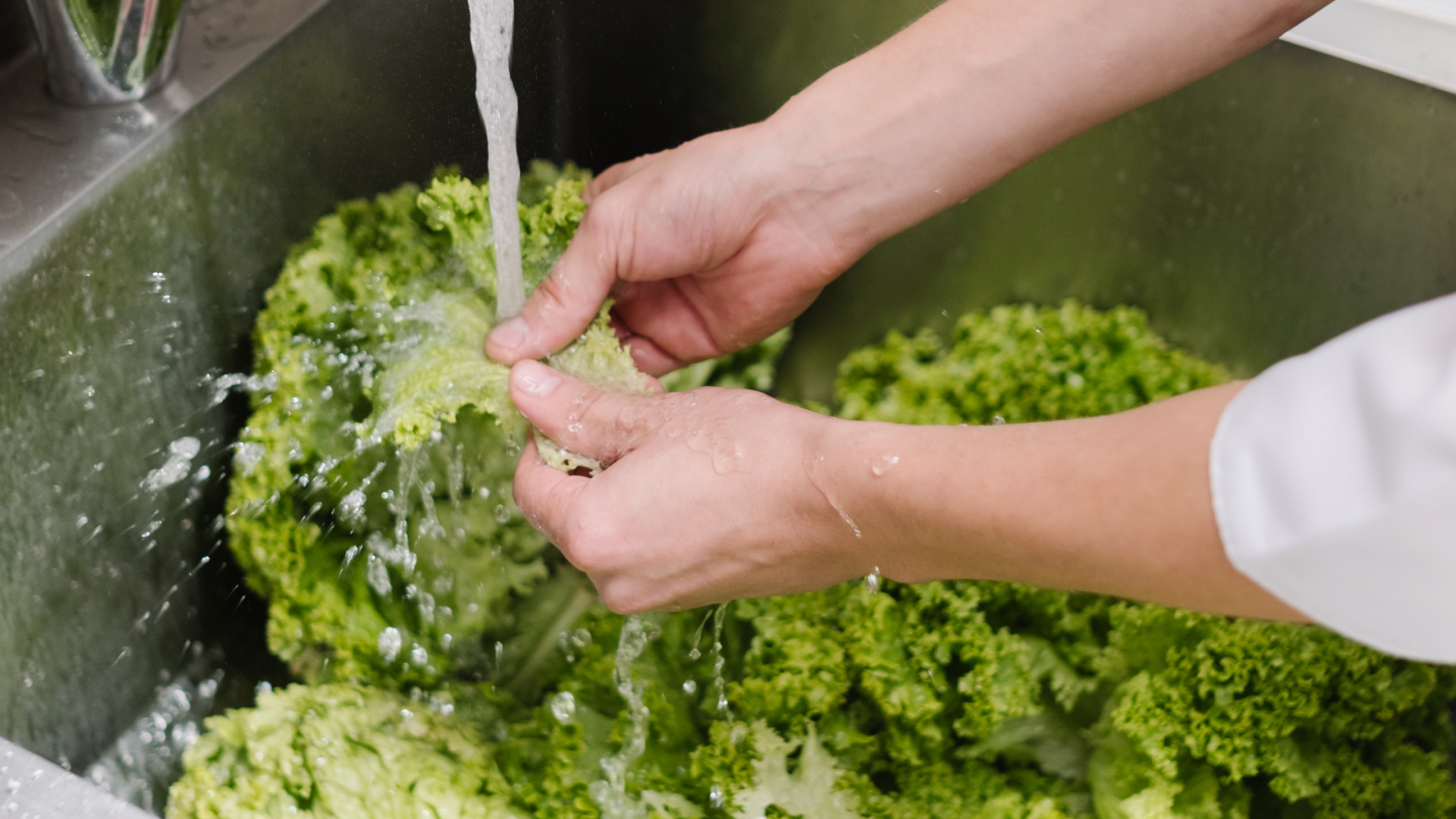 Food Safety refers to handling, preparing and storing food in a way to best reduce the risk individuals becoming sick from foodborne illnesses. Food safety standards are set by Food Standards Australia New Zealand (or FSANZ, for short), and must be followed by all restaurants, cafes, and manufacturers. Don't forget the home kitchen – food safety is just as important in the heart of the home.
---
Food safety can be broken down into three key principles:
KEEP IT CLEAN: Keeping surfaces, equipment, utensils and hands sanitised and free from dirt and germs
COOK IT WELL: Ensuring food is thoroughly cooked to the required temperature
STORE IT SAFE: Keeping raw meats and high risk foods separate, refrigerating or freezing food promptly, and ensuring to discard food after the safe time for consumption is past
---
It's important to remember that food safety is for all the foods we eat – from fresh produce and raw meats, to packaged biscuits and cereals. This is because there are many ways food can become harmful to our health, and often this is invisible to our eye. Food can carry bacteria on it's surface from when it was grown or processed, and if not cooked or stored correctly, this bacteria can grow and be dangerous for our health.
Salmonella is one such example of a dangerous bacteria. Salmonella can be found in raw eggs, poultry and raw meat, and even some fresh produce (commonly imported) that has been processed or washed with water contaminated with salmonella. Food needs to be thoroughly cooked and stored properly to kill the bacteria and prevent food poisoning.
So, what can I do to improve food safety in the home?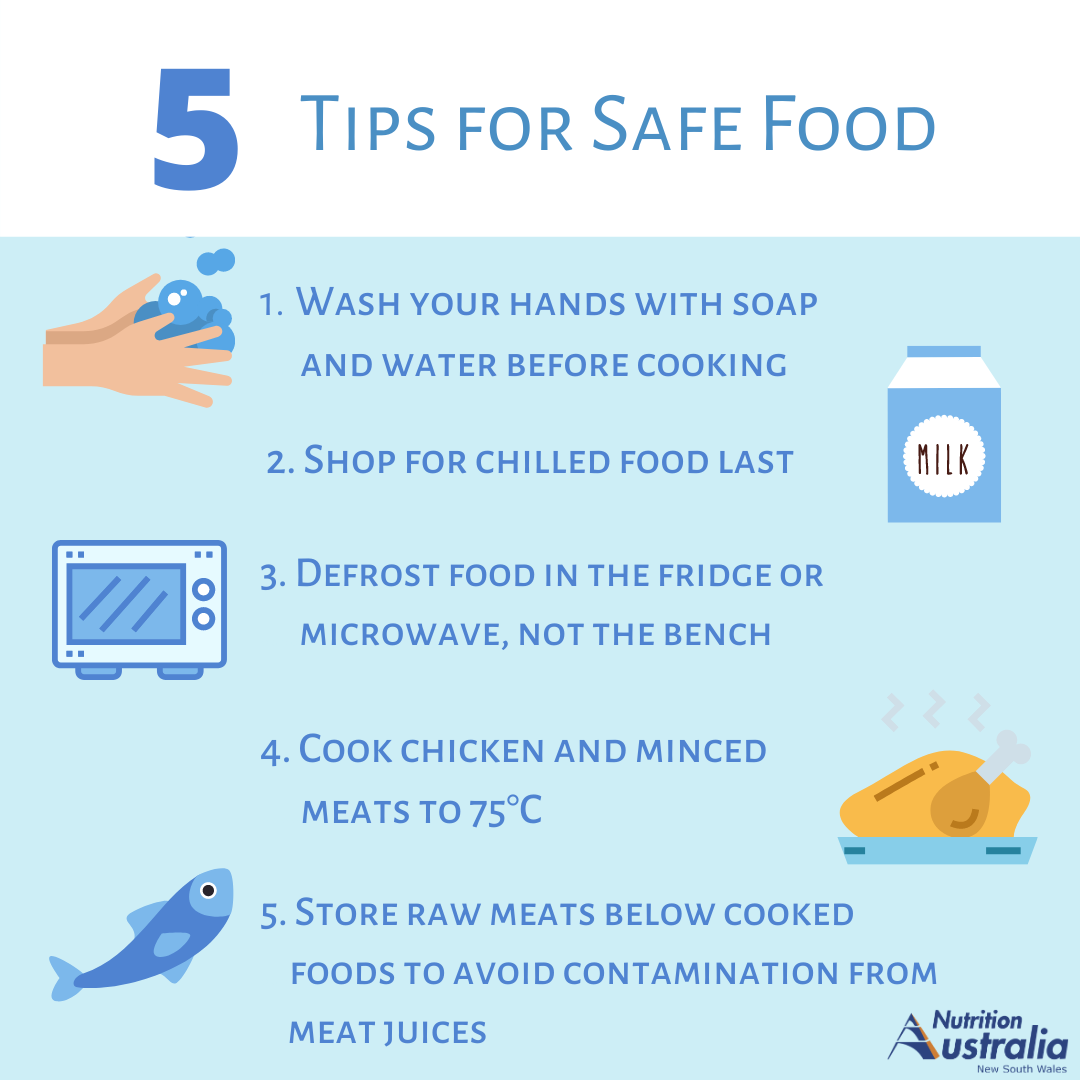 Maintaining a high level of personal hygiene, especially hand-washing regularly
Clean reusable grocery bags regularly. Wash canvas and cloth bags in the washing machine and wash plastic reusable bags with hot, soapy water.
Store raw seafood, meat, poultry, and dairy products in your refrigerator.
Rinse fresh vegetables and fruits under running water just before eating, cutting, or cooking.
Always use a clean cutting board for fresh produce and a separate one for raw seafood, meat, and poultry.
Always use a clean plate to serve and eat food.
Never place cooked food back on the same plate or cutting board that previously held raw food.
Discard cooked leftovers after 4 days; raw poultry and ground meats, 1 to 2 days.
Discard any food after their "use-by date"
Make sure to keep any pantry items sealed to prevent pests
Clean all cooking equipment, benches and utensils with warm water and detergent after use and allow to dry properly before putting away
Keep foods at safe temperatures – keep cold food less than 5oC and hot food greater than 60oC, and do not leave food between this temperature range for more than 2 hours, find out more here.
Food safety is different for every food – get familiar with the guide for different foods by clicking here.
In a commercial kitchen, there are a number of laws and regulations that must be complied with. Check out this link here for more information.
What about COVID-19 and food safety?
According to FSANZ, there is no evidence that COVID-19 is transmitted through food or food packaging. However, maintaining good hygiene practices and following physical distancing requirements in the grocery store or restaurants is highly recommended.
Work in a commercial kitchen, or prepare food as part of your business? Take the next step in food safety
NANSW offer courses online and face-to-face to help you and your staff or colleagues become more familiar with key food safety concerns. We offer training to a variety of areas including: Early Years Childcare, Outside School Hours Care, Schools, Communities and Groups, Workplaces and Aged Care Facilities.
Contact us on [email protected] for information on our Training Sessions and Workshops in NSW, and how we can tailor these to your needs.
Join our community
Be the first to hear about our events, delicious recipes, and healthy eating tips with our monthly online mag, The Healthy Food Scoop