Nutrition Australia first introduced the Healthy Eating Pyramid in 1980, based on a 'more to less' concept developed in Sweden in the 1970s. It was designed as a simple, conceptual model for people to use as an introduction to adequate nutrition.
Since then the Pyramid has continued to evolve, always with the same aim: to encourage Australians to eat a varied and balanced diet in line with current dietary guidelines.
The unrivalled success of the Healthy Eating Pyramid as an educational tool over the last 35 years is due to its simplicity, and it continues to be in great demand by publishers, educators, health workers and the general public.
In 2015, Nutrition Australia launched the latest version of the Healthy Eating Pyramid with a fresh look and targeted health messages, based on the 2013 Australian Dietary Guidelines.
Past Pyramids
The original Healthy Eating Pyramid separated foods into four layers:
The larger 'Eat More' layer at the base depicted all plant-based foods: fruit, vegetables, legumes, nuts, grains, bread and cereals.
The 'Eat Moderately' layer depicted dairy foods (and dairy alternatives) and meat (and meat alternatives)
And two separate layers in the 'Eat in small amounts' section which depicted added fats and added sugar.
Do you recognise either of these?
| | |
| --- | --- |
| 1982 | 1986 |
| | |
The Healthy Eating Pyramid received a major design update in 1999.
And in 2004 we gave it some visual enhancements after the release of the 2003 Australian Dietary Guidelines.
We also added the 'Move More' layer at the bottom with pairs of legs to promote physical activity, and renamed it the 'Healthy Living Pyramid'.
| | |
| --- | --- |
| 1999 | 2004 |
| | |
In 2007 we refreshed the design again, and until May 2015 this has been the current Pyramid familiar to many Australians.
2007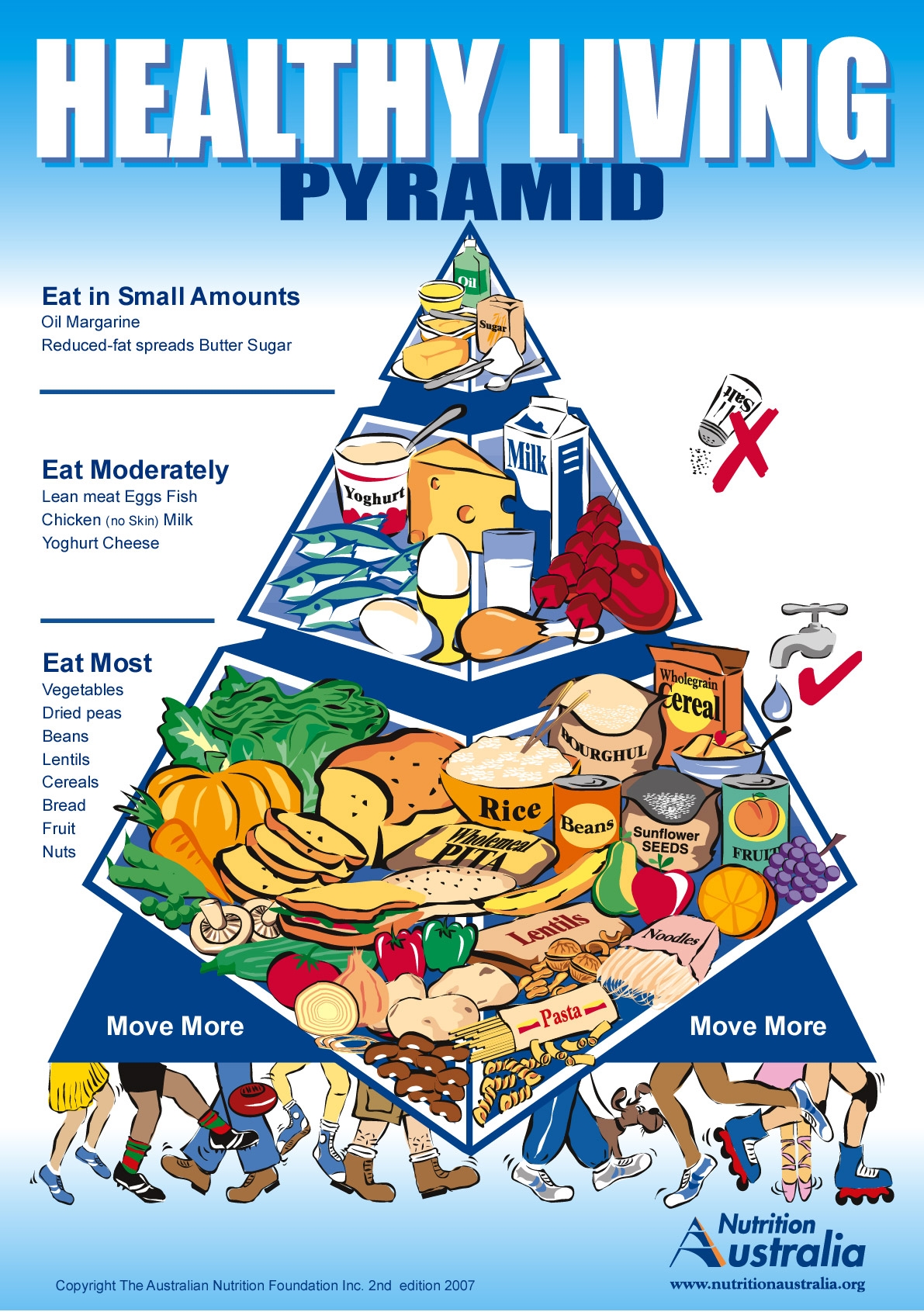 In 2015, we launched the newest Healthy Eating Pyramid with a fresh look and targeted health messages for Australians. Click here to see the new Healthy Eating Pyramid!