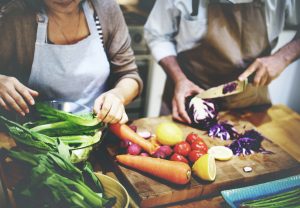 Project Dinnertime is designed to get more people cooking more often. Facilitated by Accredited Practising Dietitians, our Project Dinnertime cooking workshops are delivered in our very own fully equipped Food Skills Kitchen.
Our hands on cooking workshops aim to:
improve cooking skills
build kitchen confidence
inspire and motivate interest in cooking meals from scratch
develop menu planning and food budgeting skills
All cooking workshops are tailored to participant abilities and nutrition needs.
Click here to view a short video of our kitchen.
Project Dinnertime Cooking Clinic
Our one-on-one cooking clinic will give you the skills and confidence to prepare delicious healthy meals from scratch. You will also receive support and advice from our dietitian to help achieve your healthy eating goals.
Click here to learn more.
Project Dinnertime Cooking Clinic for people with disabilities
Nutrition Australia ACT is NDIS registered to provide supports under:
Improved Health and Wellbeing
Improved Daily Living
Our one-on-one cooking clinics are tailored according to individual ability and nutrition needs. A carer, support worker or family member is encouraged to attend at no extra cost. Click here to learn more.
Project Dinnertime Group Cooking Classes
Perfect for individuals, families, community groups or staff. Our fun and engaging group cooking classes integrate nutrition education and practical cooking skills in a hands on cooking workshop. Our cooking classes accommodate up to 8 participants per class.
Click here to learn more.
To learn more about Project Dinnertime visit: www.projectdinnertime.org.
To make a booking or for further information regarding our Project Dinnertime classes, contact us.
Ph: 02 6162 2583

Email: [email protected]