11 July 2019
How to get kids to eat more vegetables? It's the age-old question posed by many a parent. With less than one percent of Australian children consuming the recommended serves of veg per day, this significant issue demands fresh new thinking and long-term investment.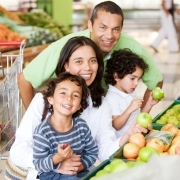 CSIRO is teaming up with Flinders University and Nutrition Australia, to lead VegKIT, a five year multimillion dollar HORT Innovation funded project to address the under consumption of vegetables by Australian children. It will incorporate a nationally integrated approach designed to improve intake through education, training and industry engagement.
The project aims to change the mindset of our youngest consumers by revising dietary advice to parents and consulting with educators to improve their enjoyment and experience of vegetables. Eating veggies should be delicious and fun! From these insights a focus is to launch a national framework to encourage the adoption of increased veg consumption and find practical, innovative ways to make them more appealing.
The 6 key activities throughout this long-term project are:
Best practice guidelines to increase vegetable intake
A national online register of programs and research initiatives that aim to increase vegetable knowledge
Development of the Vegetable Intake Strategic Alliance (VISA) to facilitate cross-sector collaboration
Updated dietary advice for maternal, infant and early years
Community Initiatives to increase children's vegetable intake aimed at the long-day-care setting.
Supply chain initiatives to increase vegetable intake.
Nutrition Australia is excited to be involved in each of the project initiatives but is leading Activity 2; developing and maintaining a national online register of initiatives to increase children's vegetable intake. We look forward to sharing insights as the project progresses.
Visit https://www.vegkit.com.au/ to find out more.