Food, mood and learning at the National Education Summit
12 July 2019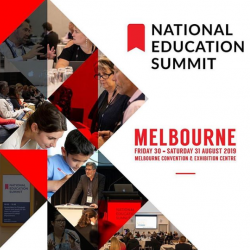 Join Nutrition Australia Vic Division on Saturday 31 August 2019, as Margaret Rozman explores the latest research on the connection between food and mood in education.
She will discuss the strong evidence on the effects of healthy eating on student learning, mental health and overall wellbeing along with best practice strategies you can easily implement to support healthy eating in your classroom and school.
PLUS come and visit our exhibitor stand, meet our friendly team, and go into the draw to win 1 of 10 giveaways.
See you there!
We also wrote a blog about it.
About the National Education Summit
Over 2 days in Melbourne enjoy concurrent Conferences, a Symposium and Interactive Seminars alongside an education focused Free Trade Expo. Earn professional development hours on all events you attend.
Over the course of the summit in 2019, leading voices and academics will present conference and seminar events across key topics including: Special Needs, Digital Classrooms, Positive Education and Leadership.